The Pride of Barbados is an evergreen shrub or small tree that is a member of the Fabaceae or legume family.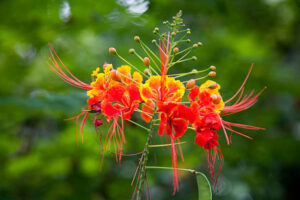 It is originally from Mexico and the Caribbean and has beautiful showy orange-red flowers, fern-like leaves, and prickles on its stems and branches.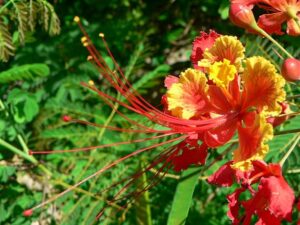 It is the national flower of Barbados.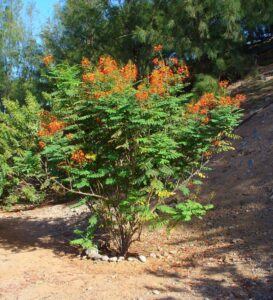 It may also be known as Barbados Flower Fence, Barbados Pride, Dwarf Poinciana, Peacock Flower, and Red Bird of Paradise. The genus, Caesalpinia, is named in honor of the 16th-century botanist, philosopher, and physician, Andreas Caesalpini. The species name, pulcher, is Latin and means beauty.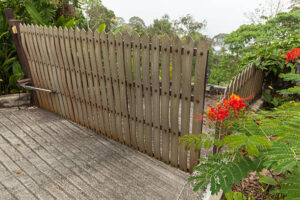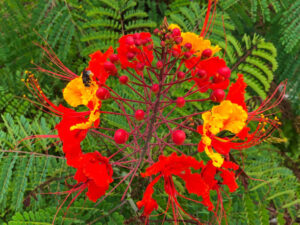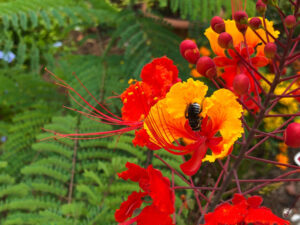 The Pride of Barbados is a deciduous shrub.In the tropics, it may grow 15-20 feet tall and equally as wide.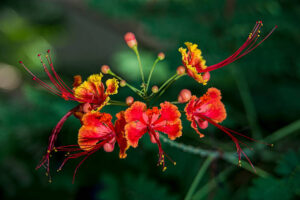 The flowers are clusters of orange-red blossoms with long red stamens. They blossom most of the year in the tropics. In climates where frost occurs, the flowers appear late summer and fall. After flowering, the fruits appear which are pod-like.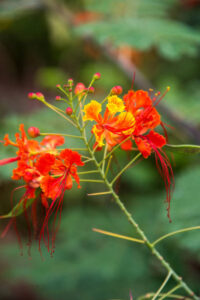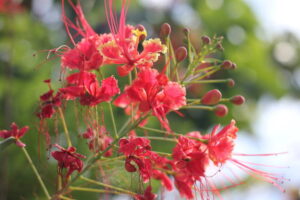 When they ripen, the pods split open and disperse the small seeds. The seeds contain tannic acid that is poisonous and can result in gastrointestinal discomfort if ingested. Exercise caution if using this specimen in areas frequented by children or pets.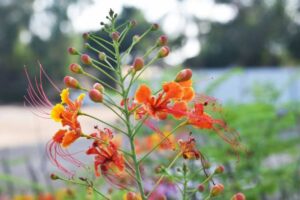 Hot humid weather and full sun ensure flowering. It is intolerant of poorly drained soils. Once it matures it tolerates some drought. During the growing season, they perform best if watered deeply but infrequently. Pruning may be needed to maintain its shape.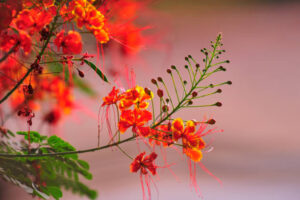 It may be best to avoid planting this shrub near patios or walkways due to its prickly stems and branches.  Used as a specimen, accent, or border, it would add beautiful color in a sunny, hot, and humid area.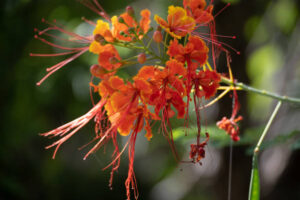 The flowers also attract hummingbirds and butterflies. They are considered deer resistant.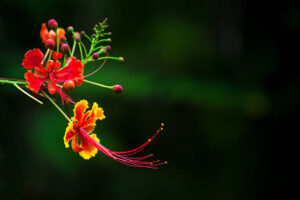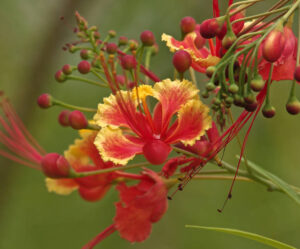 In terms of pests and diseases, the shrub may develop scale and may be susceptible to mushroom root rot in poorly drained soil.

Any questions or if buying, contact me HERE