THOSE WHO SMOKE DO REALIZE THE HABIT IS COSTING THEM A FORTUNE.
SAVE YOUR SELF A TON OF MONEY & GROW YOUR OWN-EASY TO DO
BUY TOBACCO SEEDS HERE & GET THE FOLLOWING>
5 TOBACCO RIPE FLOWER HEADS THAT EACH CONTAIN 50-100 TINY SEEDS
I include a small sample of leaf with the purchase.
Growing your own tobacco you know there will be no chemicals in the product.
Many times one worries about the harmful chemical additives more than the nicotine in the tobacco. Rightfully so I would think.
If you are contemplating  quitting, then it should be easier if you are not ingesting any harmful addictive chemicals that are designed to keep you hooked & dependent.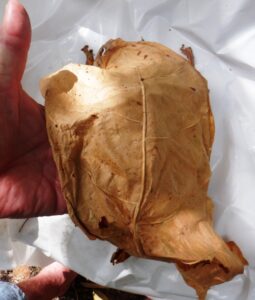 Making your own cigars is also an option. Mr Google will help you with details
This tobacco type is said to be a Virginia  style, but cannot be verified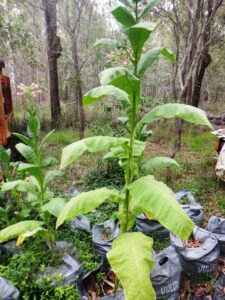 The mature plant stands approx 2 metres tall.
The leaves are broad & bold in most cases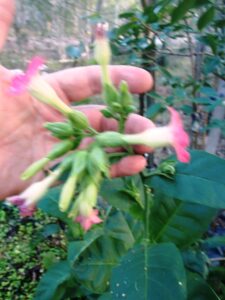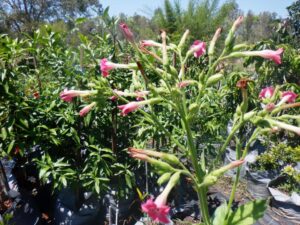 TOBACCO PLANT FLOWERING
You will always have small tobacco plants popping up in your garden under the parent
Tobacco plants are annuals &  need to be replaced once mature & crop harvested.
The leaves are removed from the bottom of the plant only when they have gone to a brown/yellow colour.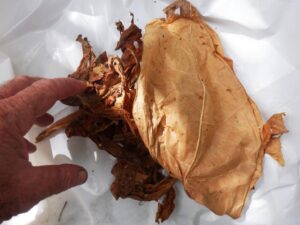 These are the harvested leaves that can be cured or treated to your specific needs.
There are many varied blends that can be made with herbs, liquors etc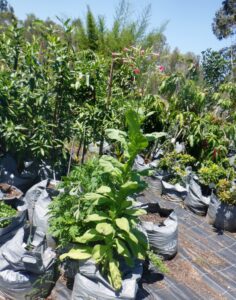 You should have a small machine to chop up the leaves once matured.
Some people have used a pasta cutting machine successfully
NOTE > I do not sell any tobacco or chop-chop as some call it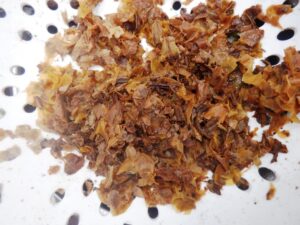 One can use, buy & sell seeds & grow the plants for self use, just like one can brew your own beer or distill your own alcohol. for personal consumption.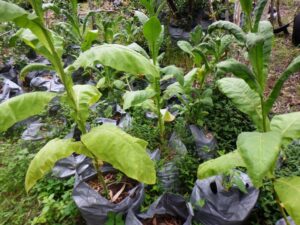 Problems can arise however if you grow tobacco and sell the smoking tobacco product.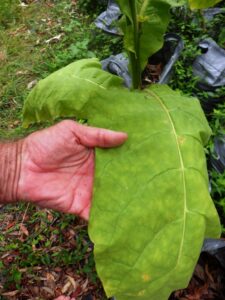 If you defraud the government of its income from taxing the smoking product then they will slap your wrist very hard.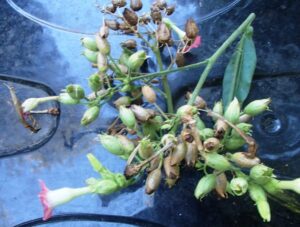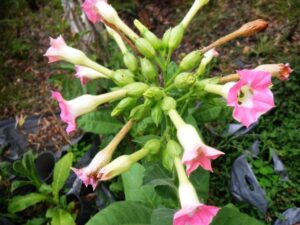 My understanding is that is legal to sell-buy-grow seeds & plants for personal use.
If you are interested in buying live tobacco plants let me know & will check my stock
If ever that was to change, I will cease & desist in this endeavor  ENJOY & SHARE

Any questions or if buying, contact me HERE